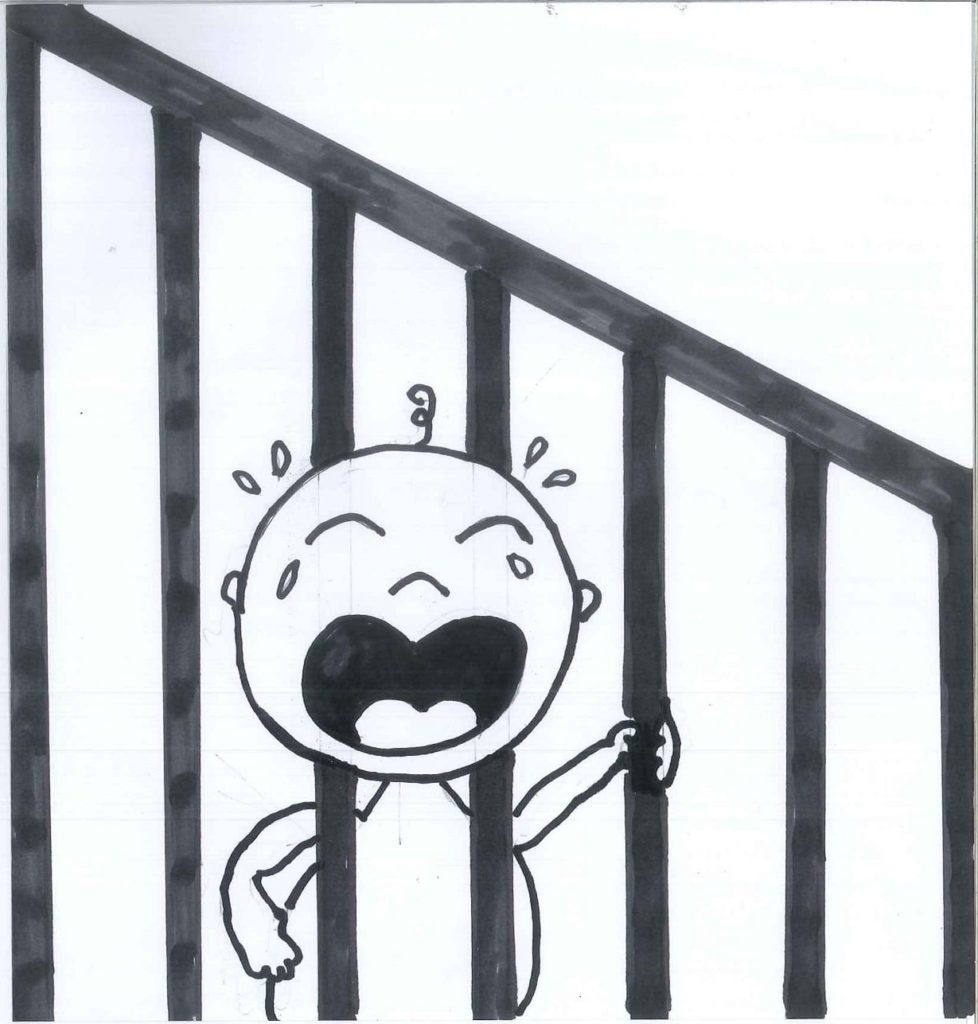 I babysat my one year old grandson this past weekend. I highly anticipated the day–a whole day just him and I. I was so excited to spend time with him. And just like I imagined, it turned out to be a fun-filled day of playing trucks, taking walks, building blocks, reading books, swinging, and digging in dirt. It was perfect, except for one little incident that threw me into a bit of a frenzy.
It has been a few years since I have had to deal with a one year old, but one thing never changes–they are fast and it only takes seconds for them to get themselves in a predicament. I was reminded of this the hard way. I only turned my back for a few seconds to throw away a diaper when I heard a panic stricken cry coming from the hallway. I headed immediately in the direction of his cry and was devastated to find him with his head stuck between the railing leading to the upstairs.
My heart skipped a few beats, but I managed to lift and turn his head a bit and it popped right out. Boy, did I feel a big sigh of relief because in my mind I was imagining the worse case scenario–the fire department arriving, sawing down the railing all while reviving a traumatized baby passed out from overwhelming fear and panic brought on by this unfortunate situation. And the worse–having to explain it all to a first time mom who thought her baby was safe in the hands of a doting grandmother.
Fortunately, the worse did not materialize. After just a few minutes of crying, he settled down and was just fine except for a red mark on top of his left ear. I was also thankful my daughter-in-law was very understanding and even thanked me for my quick reaction. She said she was glad this happened on my shift because she would not have handled it as well.
So what does all this have to do with HG Logistics LLC and the freight broker transportation business? You might not see the correlation at first, so let me explain. Here at HG Logistics LLC, a third party logistics company located in Cincinnati, Ohio, we treat our freight much like you treat an infant–with a watchful eye and a lot of tender loving care. The commodity is of great value to the producer, shipper, receiver, and consumer. Therefore, the safe movement of those products from manufacturer to buyer is of upmost importance.
HG Logistics LLC specializes in such strategic handling of commodities from Point A to Point B. Our services include providing best suited equipment for the job, checking temperature controls, scheduling pickup and delivery appointments, making sure freight is loaded properly and safely secured, and of course tracking and check calling until the freight is obtained in the hands of the receiver. We watch and handle every aspect in order to steer your freight clear of any unwanted predicaments and to ensure quick corrective action when any complications do arise.
It is no secret that in the transportation business things can happen quickly and unexpectedly, just like with a one year old. But HG Logistics has the experience and knowledge to promptly resolve those situations. More importantly, we care. That is why you can rest assure that your freight will receive the special attention it deserves.
So let me ask you..Do you feel stuck? Do you feel your current transportation broker is leaving you hanging–not giving special care to your freight and having no urgency to rescue it when it gets off track and in mucky situations? If so, let HG Logistics LLC free you from those worries. Let us care for your transportation needs. Let us deliver you from the failed transportation moves that are strangling your business. Call HG Logistics LLC today at 1-877-574-4744 and then you can just sit back, relax, and a breathe a sigh of relief knowing your freight is in good hands.