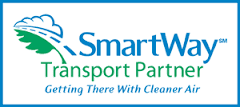 You may have noticed the logo attached to someone's email, or even stuck onto the side of a tractor trailer going down the road, so I thought that I would use today to address the question: What is Smartway?
Smartway is a sustainability effort introduced by the EPA that focuses on the trucking and transportation industry. Since 2004, Smartway and its participants have saved over 170.3 million barrels of oil. With developed countries such as the United States generating much of the pollution due to freight transportation, something had to be done. The Smartway initiative is the US Government and EPA's collaboration with brokers, trucking and logistics companies to cut down on the impact that moving freight has on the environment.
While Smartway is a voluntary program, HG Logistics, a third party freight broker in Cicinnati, Ohio has joined the ranks of many who take part in the program. Why? We joined because HG Logistics, while small in size, sees that our company's participation in the freight industry adds to the pollution that has become so apparent in recent decades. It is indisputable that doing something good for the earth is a positive outcome, so we decided to participate.
What does it mean? Participation in the Smartway program means that we begin the process for certification months in advance. We go through each and every carrier used on our shipments and evaluate them based on their own participation in Smartway as well as how much freight they have moved for us, and how far. Using this information, we are able to upload a profile of what our own impact is, by getting a view of the carriers we choose. By selecting carriers that are Smartway participants, HG Logistics is able to reduce our own environmental footprint.
If you would like to move your freight with a company with an environmental conscience, please give us a call anytime at 513-244-3026! You can also visit us on Facebook!