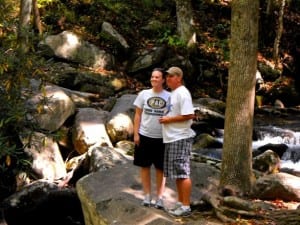 At HG Logistics spring has sprung
For our employee, Steve, love has just begun.
Before, Steve enjoyed his bachelor years
Going to parties and drinking a few beers.
But all he knew was about to change
Love meant priorities he would rearrange.
Steve has always been quite the jock
When it comes to sports, Beth's no kid on the block.
Love for sports is what set them on track
Steve admired that mean bat Beth could crack.
Don't be fooled because sports was not all
For Beth's great beauty Steve was about to fall.
Their love bloomed under the starry sky
A twinkling in their eyes no one could deny.
Despite warnings from a doubtful few
Steve bought a ring from a jeweler he knew.
On a mountaintop in Gatlinburg, Tennessee
He pulled out the ring and got on one knee.
With his voice shaking all nervously
Steve asked, "My darling, Beth, will you marry me?"
With tears pouring, her voice shaking too
Beth answered, "Oh yes, Steve, you know I love you."
Has the date been set? You may ask, "When?"
Mark it down–October Ninth Two-Thousand and Ten.
With Steve, HG Logistics likes to poke fun
The guys tease him–it is not too late to run.
But with all joking put to rest
HG sincerely wishes Steve and Beth the best.
Soon you will become Mr. & Mrs. Steve Hunt
Who knows? By next year, you may have a little runt.
Congratulations Steve and Beth