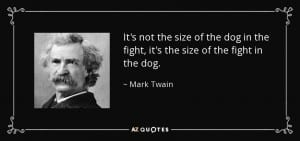 I have four children. They are all very small in stature. Another employee here at HG Logistics also has a couple of boys who are small kids. The funny thing is, they're all- mine and his- great at sports! Even playing against youngsters who outweigh them by twenty, thirty, fifty pounds, and who are several inches up to a foot taller, my kids come out on top most of the time. As the Mark Twain saying goes, "It's not the size of the dog in the fight, it's the size of the fight in the dog!".
I remember being a kid and thinking that I just couldn't compete with those bigger, faster kids. As an adult, I've found myself inspired to work toward goals that seem bigger than me, simply because of the strength and determination my kids have shown. Professional athletes who are small in stature are rare, but they are there. Think of Pele, Spud Webb, Maurice Jones-Drew, and arguably Stephen Curry (although listed at 6'3", this is hardly tall for the NBA). Each of these role models makes a case that big things come in small packages.
HG Logistics LLC, a third party logistics company and transportation broker located in Cincinnati, Ohio, is a small dog in a big fight. The transportation industry is a multi-billion dollar segment. While we share a city with one of the largest transportation brokers in the country, our goals are hardly the same, and our fight is more fierce. Why? Because of what we fight for. HG Logistics LLC is a small business. We fight for our customers to have the best possible service. We fight to hire and retain quality employees who will serve our customers with respect and fairness. We also fight to be sure that each and every load moves to its destination safely and in a timely manner. HG Logistics LLC is a small dog with a lot of fight…shouldn't we be fighting for you?
For more information on HG Logistics, a third party logistics company and freight broker located in Cincinnati, OH. Please contact us.