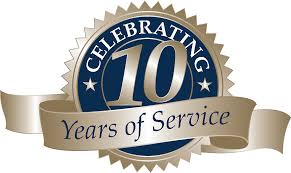 A few days ago, HG Logistics LLC, a third party freight broker in Cincinnati, Ohio, celebrated ten amazing years in the business! We are proud of the company we have grown into and of the relationships we have formed with our many business partners.
Last Friday, HG took some time to relax and relish in the accomplishment. Catering was provided by Big Dogg BBQ and Itsy's Ice Cream Truck even made a stop. After all the food was gone and the last cone of soft serve was served, raffle prizes were drawn including a Fitbit, Yeti Tumblers and an LG TV. In all, I think it is safe to say that the employees felt as if their contributions to HG's longevity are appreciated. Faces old and new made appearances to make the day enjoyable. Employees and friends who attended had a great time of socialization and camaraderie.
Times like these are a great way to reflect on what we have accomplished as a team, and how we have accomplished much together. Milestones are also great times to set new goals for the future and plan on getting there. We plan on seeing all of you at our 20 year celebration!