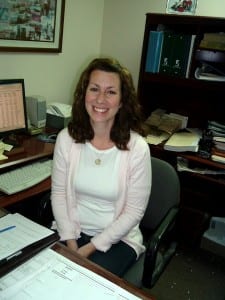 HG Logistics LLC and Hill and Griffith (our parent company) welcomes Sarah Dixon to our team. Sarah Dixon joined us in May 2012 as our Human Resource Manager. She will be replacing Shirley Mote who is retiring in June (future blog in the making).
Sarah is originally from the Cincinnati area, and attended the University of Cincinnati where she earned a BA in Psychology. She met her husband, Cory, several years after college, and they got married in 2007. They currently live in Anderson with their two daughters, Charlotte, who is 18 months and Chloe, who is 4 months.
She joined the Hill and Griffith/HG Logistics Team after nearly ten years with Millennium Hotels and Resorts, where she served as the Director of Human Resources and was responsible for overseeing 300 employees. While in this position, she returned to school and earned her Masters in Business Administration/Human Resource Management.
After becoming a mom, finding part time work in her field was a dream of hers–a job where she could use her experience and education, but also affords her more time and flexibility to be with her daughters.
As Sarah expressed, "My new position as HR Manager for Hill and Griffith and HG Logistics has been the answer to my prayers. And I will be working hard as I have big shoes to fill when Shirley retires."
Outside of work (and when she is not changing diapers), Sarah enjoys gardening, music, and most of all, spending time with her family.
I am especially excited to have Sarah aboard for reasons beyond the fact that she makes sure I get paid. Her daughter is just a couple months younger than my granddaughter. With them both being so close in age and of the same sex, we have lots of stories to share. Sarah is the proud mom and I am the doting grandma, and we actually enjoy hearing what the other's child is doing.
So to really give you insight into the life of Sarah Dixon, I am going to share one of her stories (with her permission) that topped all mine combined. It seems Sarah's 18 month old developed a curiosity as to what lies in her diaper, and one Saturday morning her curiosity got the best of her, and she did some exploring on her own. I will spare you the details, but Sarah can attest that the evidence was every where. Needless to say, Sarah had some major cleaning up to do that day. I will admit this is one time I was glad this was her story and not mine.
Maybe this is too much information, but I think it gives you a realistic picture into a day in the life of Sarah Dixon, as well as to the rest of us moms and dads trying to balance work and home.
We are glad Sarah has chosen to be part of our family here at Hill and Griffith and HG Logistics LLC. And although we cannot promise that we will never create any messes for you, it is reassuring to us to know that you are so experienced in the cleanup department. Therefore, we welcome you Sarah with open arms, as well as with a container of Clorox Wipes and a can of Lysol.
In all seriousness….
 WE ARE GLAD YOU ARE HERE!