There is an old proverb that says that if you have no vision, you will perish. HG Logistics LLC believes there is truth to this saying and thus, we hold true to our VISION. If everyone is aimlessly doing their own thing, nothing gets accomplished. However, when there is a vision and everyone is working towards a common goal, that vision not only becomes reality, but it continues to flourish and become a vibrant part of your business.
HG Logistics, a third-party logistics transportation broker located in Cincinnati, Ohio, has been in existence since 2006. We credit this long standing in the freight transportation business to staying focused on our VISION.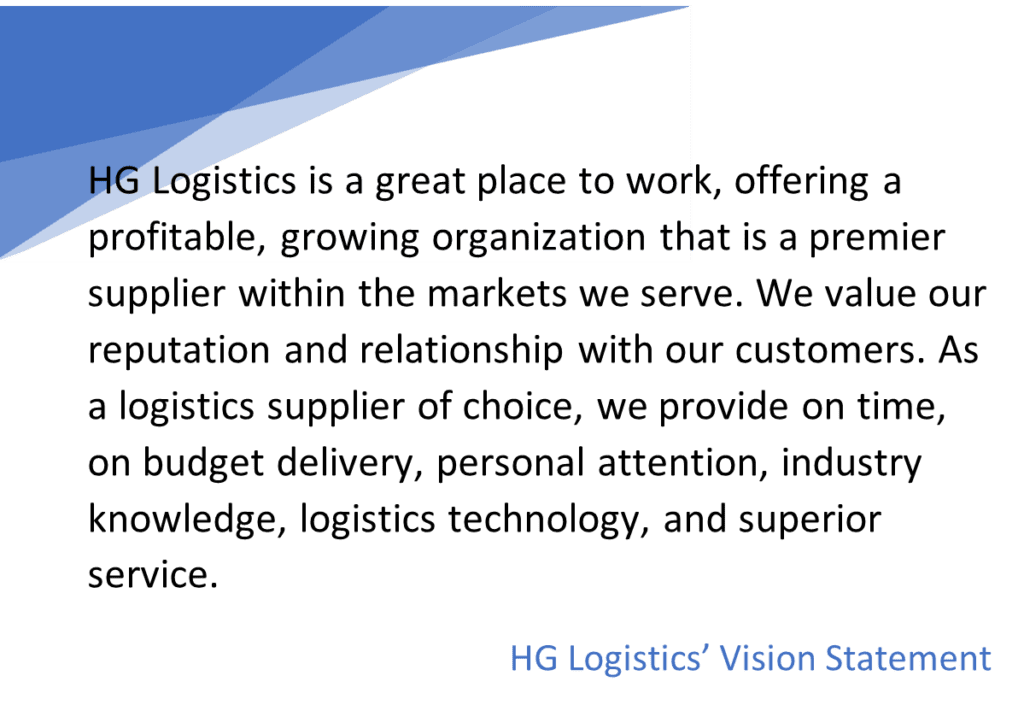 As stated above, we value our relationship with our customers which begins with our sales team reaching out and listening to their needs. They note all the details as to the commodity and the volume, as well as answers to when, where and how often. Next our sales team works with our knowledgeable operations group to analyze costs and determine best affordable rates within our customers' budget. Our vision to be personally attentive to our customers continues as our logistics coordinators do their due diligence to find reliable, highly qualified carriers to move the product. These coordinators then closely monitor pickup, transit, and delivery. Once delivered, our accounting department then joins the effort to ensure required signed documents are received  and that all invoices are accurately summitted to the customer according to their billing specifications. Each team member works diligently overseeing details at every stage of the process with the end results being customer satisfaction for a load delivered successfully.
HG Logistics' Vision is to see our Customers' Vision be realized.
Call us at 1-877-574-4744!