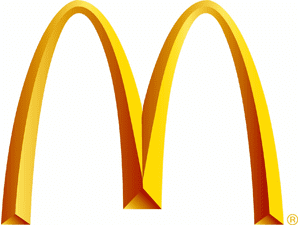 Just a few minutes ago, I got back from picking up a group lunch from McDonald's. Not where I expected the experience that I had. What I did expect was the group of people standing at the front, waiting to order, as it was smack dab in the middle of lunch hour. It wasn't as crowded as I expected, but there were a few folks there, like me, who had come in ordering for a number of people. This had to add stress to the McDonald's employees. Having worked in food service for a number of years, I know that no amount of preparing can alleviate the stress at mealtime rush hour. I can't imagine how these guys and gals did it, but they were awesome!
I will not look at this McDonald's like any other that I have ever been in. I was immediately greeted with a smile and asked if I was ready to order. The cashier was very polite and super patient with my multiple specialized requests…no pickle, extra lettuce, add this, double cheese…She just smiled an put in the order. They were so fast. Everyone was slammed, working away. The unexpected thing; they were all happy, smiling and joking around.
I wondered how on earth this whole group of fast food workers, at what was likeliest the busiest and most stressful part of their day, could be so jovial and happy-go-lucky. They were full of energy and fun. This was a learning moment. Why? Then I heard it. Loud and proud, from the front, cheeseburgers zipping down the line was the manager proclaiming "Great job everyone! Good work!" . Several employees let out a whoop and laughed. That was all it took. Letting her employees know she saw their hard work, being positive and vocal about it. That was keeping them happy, proud to be where they were and doing a great job.
Being told you are valued and that your work is appreciated can go a long way, in both professional and personal areas of our lives. Next time you want to make someone smile, acknowledge what they do that you appreciate. Let them know about it. Sometimes a simple "thank you", "nice job" or "I love the way you…" can change someone's outlook, their day and their attitude.
HG Logistics, a third party freight broker in Cincinnati, Ohio would like to do that right now. Thank you to our drivers who work tirelessly to make us look good, providing quality service. We appreciate the way that our customers nearly always go out of their way to make things simple and easy for us. Having our business partnerships makes us who we are, and we are grateful to our partners for who they've helped us to become. To all of the HG Employees, family and friends…Good Work!
To contact HG, please reach out to us anytime at 513-244-3026.