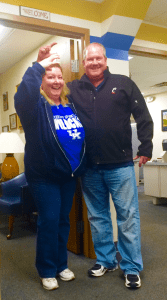 At HG Logistics LLC, a freight transportation broker and third party logistics company located in Cincinnati, Ohio, it is our goal to achieve the highest standard of customer service through the efforts of teamwork and collaboration between employees, drivers, and carriers. Teamwork is what drives us daily, monthly, and throughout the years.
However, about this time each year, our push for teamwork hits a snag, and that snag is called "March Madness." During "March Madness," competition peaks to an all time high and everyone goes a little nuts. I am sure HG Logistics is not the only company hit by this so called "phenomenon." I am sure many companies face the "madness."
This March, HG Logistics, a company that borders on the Kentucky-Ohio line,  has even more reason to claim "madness" because tomorrow, March 21, 2015, the battle between the two states begins as the University of Cincinnati takes on the University of Kentucky. We call it the "Battle between the Cats."
At HG Logistics, you are either a Bearcat fan or a Wildcat fan and everyone is taking sides. Needless to say, there is a lot of talk and bantering circling the office today. The experts state that undefeated Kentucky Wildcats definitely have the advantage, but you never know what may happen. That is the magic behind the tournaments.  When emotions run high and the adrenaline is pumping you never know what the outcome may be.  Strange things lurk in the midst of all this craziness. Perhaps this weekend, we will witness one of the greatest upsets of all time.
Now, I hope you realize all this is just in good fun–RIGHT? However, I have no doubt that someone is going to be flaunting a victory sign is the face of the losers on Monday morning.
Everyone, especially our customers, please be assured that after the "madness" dies down, things here at HG Logistics will return to normal. That supportive, team boosting atmosphere HG Logistics has become accustomed to will return with each team member (winners and losers) working diligently, side-by-side, to establish HG Logistics LLC as a winner amongst the freight brokers of the world. GO TEAM!