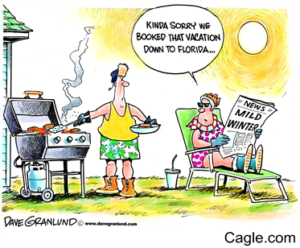 Here in Cincinnati, home of HG Logistics LLC, a third party freight broker, the weather is warming up. I can't say that I am upset about the fact that the weather reporters this morning were talking about a potential record number of consecutive days over sixty degrees for February. I love the fact that in the "middle of winter", I can go outside and not have to wear layer after layer of bulky clothes. This weekend, and for the upcoming week, the highs are all above sixty degrees, some near seventy!
The drawback is that in the winter months, there are very few outdoor activities going on in the city. My kids are actually participating in a preseason "thank goodness we have warm weather, let's take advantage of it" baseball tournament this Saturday. In case you don't have a team with this kind of crazy commitment, there has to be something out there to do! Concerts are scheduled for indoors,  the only sports really happening are hockey and basketball, which are indoors. I am on the hunt for great warm-weather outdoor activities for the wintertime, and this is what I've got:
Check your slopes! Warm weather and skiing are a great pair, as long as there is snow. If your local slopes are able to produce and maintain powder, it may be the perfect time to go skiing and be comfortable while doing it!
Find an outdoor court or field. If you love sports, this would be a great weekend to take advantage of your local park. Many parks have outdoor basketball courts, and nearly all have soccer fields or green space. Use the area to play soccer, flag football, wiffle ball, kickball, anything!
Have a get together. Can't find anything to do? Bring the party to you! Invite the friends, family or neighbors over to grill out and enjoy a dinner outdoors for the first time in a while.
Try Geocaching. If you have not heard of this, it is a great activity for any age, and can be done alone or with a group. There is an app and a website you can use. Geocaching is using your location to find hidden "caches" that other people plant out in the world. They are all around you and you probably don't even know they are there. Geocaches can be hidden in nature, parks, malls, parking lots, grocery stores, anywhere. This is a great lowkey, physical and mental challenge that really is quite enjoyable once you get the hang of it.
Dust off your bike. Taking a nice bicycle ride through the city, country, or along a bike path is always refreshing.
Hit the golf course. Many golf courses are planning to open up this week to make the most of the rising temps. Check your local spot for availability. If you can't get in a full 9 or 18, maybe just hit the driving range!
Read a book. Find a great spot outside and take some time reading and enjoying the fresh air.
Visit a farmer's market. While many are open year-round on the weekends, they don't get as much traffic through the winter. Support your local businesses and artisans and visit the farmer's market in your city or town.
Go for a drive. Nice weather is always a great excuse for a road trip. Take a day trip to a great place to hike, like the Hocking Hills State Park.
Go camping. It shouldn't be very difficult to book a campsite in February. Check for availability and pack up the gear for a rare winter camp out, s'mores and all!
Work on outdoor projects. This is the perfect temperature to get some things done around your home that you don't want to wait until spring for. Fences need painting, flower beds need straightened up, holiday lights still need taken down? It's a great time to get to work. Even if you don't want to go outside, you can open up your windows, air out your house and tackle some spring cleaning.
Here at HG Logistics, we are happy that the weather is shifting because that means that the roads are safer. Without the worry of snow and ice out there, we can rest easy knowing that those perils are away from our drivers and your freight. We certainly plan on enjoying this weather, and we hope you do too!
Contact HG Logistics to find out how we can help you rest easy knowing that your freight is in the right hands…and even if we are taking down those holiday decorations, we will answer your call, 24/7, 365.
Call us at 513-244-3026 or find us on our Contacts page to the left.