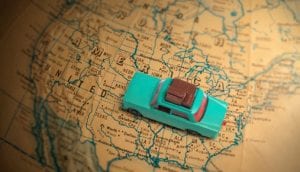 With kids out of school and the weather warming up, the summer travel season is quickly approaching. Every year, millions of Americans hop into the family vehicle and set off for a road trip vacation. HG Logistics, a third party freight broker in Cincinnati, Ohio, knows that it is important for those families to return home safely. Today, we will take a moment to discuss some safe travel tips from a variety of sources.
The smoothest trips start long before the family loads into the car. To be sure your travels will be safe, be sure to have a recent tune up, oil change, and tire check prior to leaving home. Be sure that your spare is also inflated properly and ready to go! You can have your tire pressure checked for free at most Tire Discounters locations (and others as well, but I am speaking from my own experience). Also, have your air conditioning checked, wiper blades replaced, if necessary,  and all fluids topped off.
It is also a good idea to plan your trip out. While using a GPS is helpful, tools like AAA's fuel cost calculator can help take your planning one step further by helping to know exactly how much gas money you'll need to budget. You can find this helpful tool at http://gasprices.aaa.com/aaa-gas-cost-calculator.
If you are traveling with children, make sure that everyone has the correct, and correctly installed, safety seat for his or her size and age. Having the proper car seat can mean the difference between life and death-as can safety belts, so even adults should buckle up every time!
While there are many more tips, we want to be sure to end on this one: Focus on driving. Texting or putting destinations into your GPS while driving is dangerous. If what is going on is that important, please pull over, have a passenger do it. No text is worth your life or the life of a loved one.
The US government also has the following website to address summer travel safety:http://www.safercar.gov/SummerDrivingTips
Be safe, have fun, and enjoy your summer!
If you would like to know more about the freight services that HG Logistics LLC offers, please contact our offices at 513-244-3026 or via our contacts page on this website.