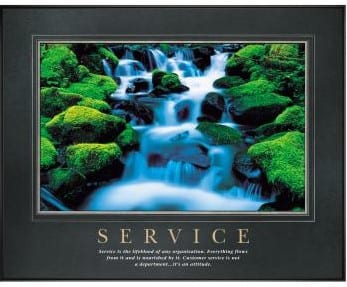 I am the oddball in my family. My mom and three sisters all have a natural sense for style and decorating. But me?–I am clueless when it comes to fashion and home decor. I even hate to shop. I used to send my mother to buy my clothes just to avoid the shopping malls. Plus, I trusted her judgment on want looked stylish more so than mine.
My mother is also one of those persons that can walk into someone's house, stay ten minutes, walk out and be able to tell you every detail of their home–colors, the design in their drapery, the type of material they are made of, what pictures are on the walls, what knick-knacks are sitting around, and how many throw pillows are on the couch. As for me, I would be lucky to be able to tell you what color the walls were painted.
Knowing that about myself, it should come as no surprise that I never noticed the picture hanging on my office wall. It has been there for six years. Now granted, it is behind me so my back is turned to it most of the day, but I never in all these years REALLY looked at it. However, the other day as I was sitting at my desk trying to come up with a blog for this week, I looked up and for the first time the picture jumped out at me and struck my attention.
The picture is the same as the one at the beginning of this blog. The blog is a copied version and is much smaller than the original so it is difficult to read the message at the bottom. What is says is this:
SERVICE
"Service Is The Lifeblood Of Any Organization. Everything Flows From It And Is Nourished By It. Service Is Not A Department…It's An Attitude."
"Wow!" was my reaction. "Why had I not notice this profound statement before?" Honestly, I thought the picture was hanging there because it matched the office decor. Little did I know it held the secret to great customer service.
When we think about our jobs, we can be taught the mechanics–the ins and outs of how to do all the day to day tasks. But the message in the picture says service is an "attitude." I do not think there is any manual with instructions on attitude. It is something we have to adopt. It is the condition of the heart. It comes from our inner desire to help and to give of ourselves.
The message in the picture actually goes hand in hand with what our general manager is continually driving home with us here at HG Logistics LLC, a third party logistics company and freight transportation broker located in Cincinnati, Ohio. He is always saying, "HG Logistics LLC sells service not price." In other words, HG Logistics has adopted the "attitude" that we are here to take care of our customers' transportation needs. We take full responsibility for moving their freight, thus, putting our customers' minds at ease. That is the heart of our business.
What the picture did for me was help emphasize just how vital "service" is to any organization. As is states: "It is the Lifeblood."  No company can survive without it.
Well, it may have taken me six years, but now I am not only alert as to what is physically hanging over my head, but I am also consciously aware of the "message" that's got my back.
HG Logistics LLC is a third party logistics company and freight transportation broker located in Cincinnati, Ohio. For more information please contact us by phone: (877) 574-4744, (513) 244-3026 or e-mail: [email protected].