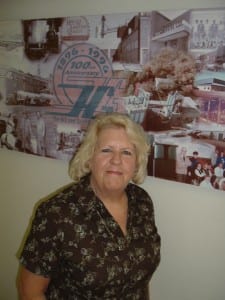 This week we say goodbye to one of our long time employees, Shirley Mote. Shirley has worked for Hill and Griffith, our parent company, since June 4, 1984, managing and directing our Human Resource Department. Over those 28 years, Shirley has had to do a lot of everything, especially when considering that for many of those years she was a one-woman operation. Being the only person in her department, she had to jungle all the responsibilities.
That is until she hired me in January 1995. When Shirley took me under her wing, I had not worked for 10 years. Needless to say, coming back into the workplace was very nerve-wracking for me, but Shirley made the transition easy and comfortable, being very patient along the way. I so appreciate Shirley for the opportunity she gave me and for her supporting me not only at work, but for understanding my deep obligation to my home and family as well. She made doing both possible for me.
Shirley was also supportive when I decided 5 years ago to change job positions within the company and start working for our newly developed freight transportation broker and third party logistics company, HG Logistics LLC. I know this was not easy for her since that left her, once again, alone handling all the department's responsibilities.
Now, it is Shirley's turn to move on, and I have never seen anyone so excited. The funny thing is for years I have seen Shirley and her husband, Bill, take on one project after another remodeling their home and rental properties (amazingly they have the talent to do this themselves). But now, they sold most of their belongings from their home, except a few prized possessions and have rented out their house for the next year. They are leaving all that behind and are hopping into their RV and are going to travel across the country and eventually spend a month touring Alaska. Then, they are headed to Texas to manage a camp ground for a few months. After that, who knows? They are going to just wait and see where life takes them next. Shirley and Bill have no fears or qualms about any of this, just pure excitement–excited to have the freedom to go, to travel the countryside, to just live life, and perhaps, even excited about spending 24 hours a day, 7 days  a week together. For whatever reason, they deserve this excitement. They have worked hard all these years and have earned the privilege to "DO AS THEY PLEASE!"
We wish you the best!
HG Logistics LLC