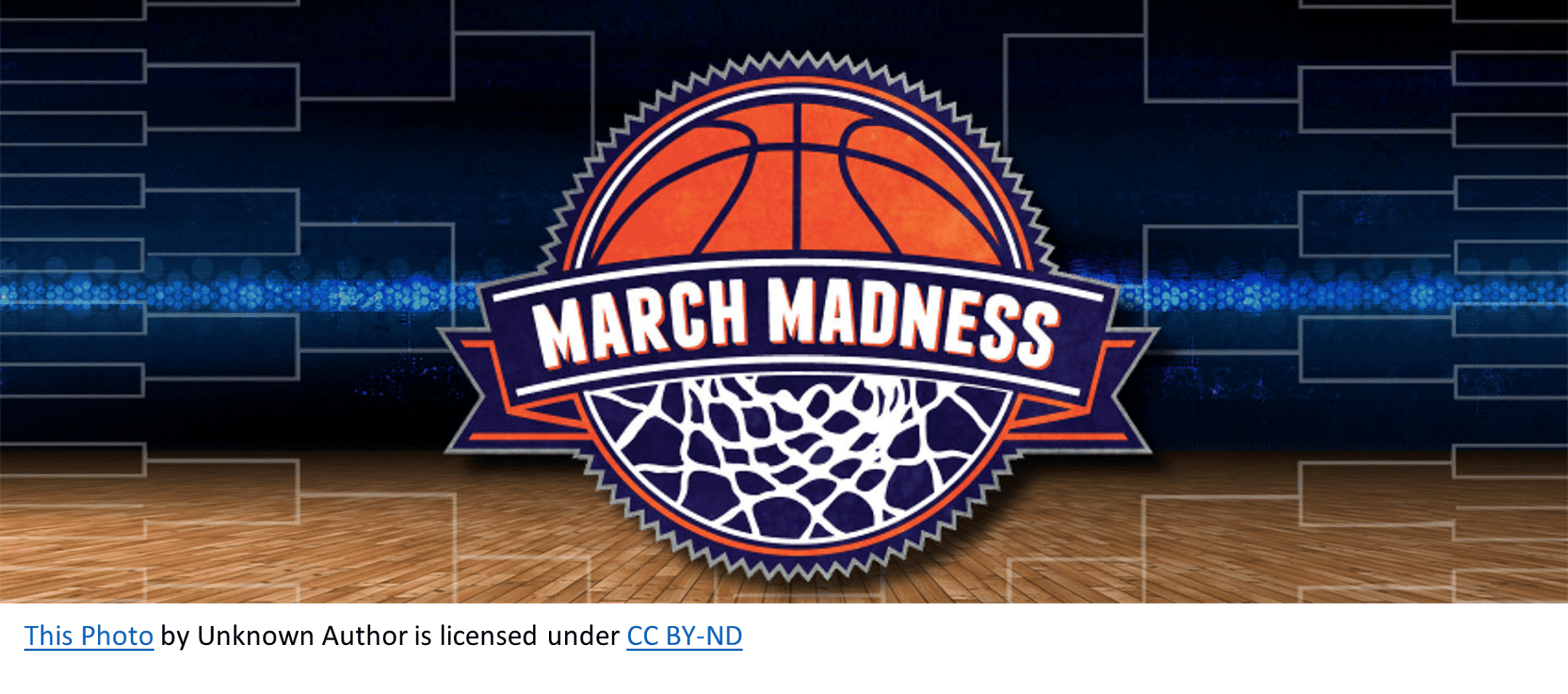 It is hard to believe we are already into the 3rd month of 2023. Yesterday, March 20th, marked the first day of Spring, and of course, you can't talk about March without also mentioning the NCAA Tournament, aka March Madness. For many of us, March Madness consumes us. Filling out the brackets and trying to predict the national champion can be both challenging and exciting. It is that challenge and excitement that lures most of us into participating in these two weeks of team selection, game watching, nail biting frenzy.
Here at HG Logistics LLC, we are playing along too.  We have our own little pool, designed and orchestrated by our Director of Operations, Duke Heller. Duke designed it such a way to help out those, like me, who are totally clueless as to who to pick. In other words, you needed no knowledge to play our pool. All you needed was the luck of the draw. Duke put the names of the teams in a bowl and we each got to draw out 5 teams. The person who has the team that makes it all the way will win a TV. However, before drawing our teams, Duke elected to remove the #16 seeds because in all the history of March Madness only one #16 team had ever won a game.
We first drew names to see what order we would pick our teams, and my name was drawn first. My first thought was maybe my luck is about to change because I had always said, "If I didn't have bad luck and wouldn't have any luck at all." However, that smidgen of hope began to vanish because the first 3 teams I picked I had never heard of–two #13 seeds and one #12 seed. My fourth pick was #4 seed Indiana which restored some faith, but what really rebounded my confidence for victory was when I drew #1 seed Purdue as my last pick. There lied my hope of going all the way and winning a brand new television.
Then the games began. My #13 seed Furman stirred some excitement when they beat #4 seed Virginia. This was a good start. Things were looking promising. Then the unimageable happened. History repeated itself and for only the second time in 84 years a #16 seed beat a #1 team in the first round. Yes, you probably guessed–#16 Fairleigh Dickinson eliminated #1 Purdue, crushing my hope of my team getting to the national championship. They are officially calling this the biggest upset in March Madness history, as the Knights were 23.5 underdogs entering the game. My one big chance for victory was eliminated from the tournament in a 63 to 58 loss to Fairleigh Dickinson.
Unlike many who were glued to their televisions this weekend, I did not watch one minute of any game. News of my Purdue lost came by way of my husband.  So, on Monday morning when I got to work, I was curious as to how my other teams faired and boy, was I disappointed. NOT ONE of my teams made it to the sweet sixteen. Even worse, I was the only HG Logistics employee who did not have a team left. I was the first one eliminated. I am out. It is over for me.
Although it was a short run, I enjoyed the excitement of the ride while it lasted. The fun will continue as I cheer on my fellow employees and try to predict who will be the last person standing. It may be true that my run of bad luck is still running its course in the game of chance, but I consider myself pretty lucky to work for a company like HG Logistics LLC that incorporates a little fun in our everyday work environment. I am thankful to be part of HG Logistics successful run in the trucking industry. We may currently be enjoying playing a game of chance with the NCAA Tournament Pool, but when it comes to trucking, luck is not what drives us, but instead hard work, attention to details, commitment to excellence, and teamwork.