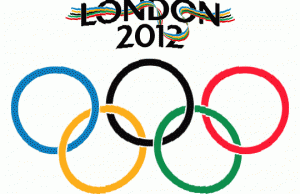 Although I am not by nature one to get overly excited about sports, I can't help but be drawn into the aura of the Summer Olympic Games that are currently taking place in London, England. I do not know if it is because the best of the best are competing, or because these athletes stand in representation of their country, or because I love the thrill of a victory, or because of the emotions and pride that swell up in me each time one of my country's athletes stand on the podium as our flag is raised and our national anthem is played. I just know I have to turn the television on each evening and watch the events that are taking place. Of course, I have my favorites like gymnastics and swimming, but even for those events I know little about, I still enjoy hearing the stories of the athlete's journey to the Olympic Games.
These athletes do not get here by luck. Skills play a big part in it, but I am convinced that it goes way beyond natural given talent. These athletes are driven, fully committed, and totally dedicated to their sport. They sacrifice so much of their life to train and focus on becoming an elite athlete worthy of these games. The fact that they even qualify to participate is reason enough to be proud. It gives them the right to be ranked with the best athletes of the world. They work so hard, and I admire their steadfastness and their "never quit" mentality. I also admire their vulnerability in that they open themselves up to the possibility of facing defeat. After all, when you are going up against the best, the dream for the gold is a little more difficult to realize. But I am sure that level of difficulty makes the Gold even more rewarding.
I saw this first hand the other night as I watched the qualifying round of the women's gymnastics. My heart was broken for Jordyn Wieber as she just missed making the individual all around competition. How crushed she must have been being so close to fulfilling her dream and just the minimal of points kept her from going for an individual medal. They work so hard and to think just the slightest blunder can keep them from achieving their goal. 
At least that is what my warped mind was thinking–all that hard work just went down the drain for Jordyn Wieber. Immediately after thinking this, I felt ashamed, and I realized in that moment of weakness, I was not portraying the mind of an Olympic athlete. If athletes thought like that, they would never do what they do. Where I see defeat, they see a challenge to push themselves harder and get better. And Jordyn Wieber did just that when she turned around and a couple nights later helped U.S.A. capture the gold medal in the gymnastics team event.
As I was reading a little bit of history about the Olympics, I learned that the Greek athletes, who participated in the first games, competed for honor not for the olive wreath the winners received.  I am convinced that this is still true today, and that is why they make the sacrifices. They compete in honor of their sport, in honor of their fellow athletes, in honor of their families and coaches, and in honor of their country.
These athletes are special and unique, and I believe we all can learn something from them. I was thinking if all of us "business" people would adopt an Olympian's mindset and work ethics, what a different business world we may encounter. An Olympic athlete never gets "comfortable" where he is at. He is always working to improve and get better. How often are we guilty of thinking we are in a good place, only to be blindsided by a competitor. From what I learned from watching these athletes is that if you what the gold you can never stop pushing yourself, and even if you win the gold, you have to look quickly at your next competitor.
Although I have never looked at HG Logistics LLC, a third party logistics company and freight transportation broker in Cincinnati, Ohio, in this light before, I picture us as a kind of Olympian of the transportation world. We may not always win the gold and sometimes we don't even make it to the podium, but after working here for the past six years, I have witnessed HG Logistics LLC adopting that same mentality I see in these Olympic athletes–we are motivated, optimistic, focused, positive perfectionists, transportation smart, and committed. And we do all this for the same reason the athletes compete in the Olympics–for a place of honor amongst the best of the best in the freight transportation business world.
If you want a "GOLD MEDAL" experience the next time you ship your product anywhere in the United States, Canada, and Mexico, give HG Logistics LLC a call.
877-5-SHIP-HG